What If?
The following is a sermon written for the new year. I preached this message in Stearns and Monticello on January 14, 2017. You can hear an audio recording of the message here.
A well-known story circulated the Internet a few years ago. It went something like this:
There once was a little boy who had a bad temper. His father gave him a bag of nails and told him that every time he lost his temper, he must hammer a nail into the back of the fence.

The first day the boy had driven 37 nails into the fence. Over the next few weeks, as he learned to control his anger, the number of nails hammered daily gradually dwindled down. He discovered it was easier to hold his temper than to drive those nails into the fence.

Finally the day came when the boy didn't lose his temper at all. He told his father about it and the father suggested that the boy now pull out one nail for each day that he was able to hold his temper. The days passed and the young boy was finally able to tell his father that all the nails were gone.

The father took his son by the hand and led him to the fence. He said, "You have done well, my son, but look at the holes in the fence. The fence will never be the same. When you say things in anger, they leave a scar just like this one. You can put a knife in a man and draw it out. It won't matter how many times you say I'm sorry, the wound is still there."
We have just entered the new year—2017. At times like this, it's good to reflect over our lives during the past year, to see how the Lord has led us, how we've grown, and ways in which we could hope to do better in the coming year. Many of us have a tradition around new-years time—making New Years' Resolutions. I've done it, but if you're like me, by mid-January you've already forgotten most of them.
Making New Years' resolutions is quite easy, but keeping them is a different story. Keeping those resolutions requires, well—resolve! And that resolve isn't so easy to come up with, as those resolutions were to write down.
A few weeks ago, some friends of ours came to visit, and while they were here, they wanted me to help them get some pictures. They wanted to take a picture on the rail-road tracks. You know, those romantic-type scenes here
two lovers walk with arms out-stretched, off into the sunset, with the parallel tracks disappearing into the distance…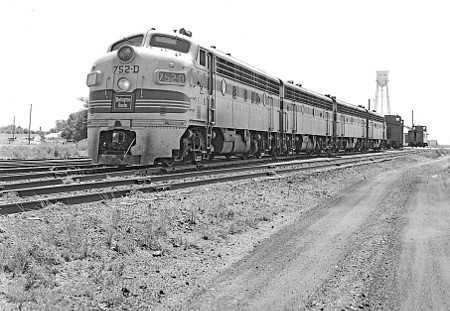 Anyhow, we did find a place. We waited until there were no trains, and quickly took a picture. We had to be careful not to get hit by any trains. We knew if a train came along, we'd better get off the tracks, because the train is not going to stop!
Did you know it takes a freight train a mile or more to stop? When the engineer applies the brakes, there are 100 or more loaded rail cars behind the locomotive, pushing him forward, and even with all the brakes applied the train will keep moving for another mile before it can stop.
Sometimes, I think it's a lot like that in our lives. We can make all the resolutions in the world to change, but there's a powerful force called habits. No matter how hard we try to stop, those habits are like a
loaded freight train, pushing us forward in our old ways and plowing us away from all our best intentions.
But what if….what if we could change? I'm not saying change is impossible. People make changes all the time, and many people have made huge changes in their lives. Don't underestimate the power of trying! You
hold your life in your hands, and if you will, you can change.
But no matter how much you change, you'll never be able to go back and undo things that are already done. In our story, the little boy tried really hard, and he was able to control his temper. He changed a bad habit, and turned it into a good habit. But no matter how hard he tried, he couldn't go back and un-say the unkind words he'd said. He couldn't remove the scars from the old fence post—they stood there as a perpetual record of his formerly hasty temper.
This past week, we have heard on the news of the trial and conviction of a mass-murderer. We stand aghast at the cold-blooded murder of nine innocent worshipers in a church service. Perhaps more shocking is the complete lack of any remorse or sorrow on the part of the perpetrator. This week, the jury sentenced Dylann Roof to death. And well he should be. Even if he were sorry for his deed, it would not bring back the lives of those he has slain. Nor will his death, for that matter. But, his rightful punishment will bring a sort of closure—some sense of justice—for the families and the society that he has so flagrantly violated.
In the Bible, we read how God created us. The same breath that gave to us life, also spoke to man God's law. God's law is an immutable transcript of His Holy character. God's character is defined by the great principle of love—love to God, and love to our fellow man. Yet all of us—you and I—have broken that law. We are guilty, by our own choice, of violating the commands of Jehovah. And not just once, or twice, but I dare say that if we were to review the record of our lives, the jury of our hearts and conscience would find that we are not only guilty, but hopelessly guilty, and worthy of nothing but death.
In Romans 3:23, Paul declares that "all have sinned and fall short of the glory of God." And in chapter 6, verse 23: "The wages of sin is death."
Now, I don't suppose anyone here is a murderer—at least not outright. Maybe you've never committed adultery, never taken anything that wasn't yours, and never even uttered a curse word. I trust most of us here, to look at us, are good Christian people. But I challenge you—read Matthew 5. Jesus says, if you've hated your brother, you're a murderer. If you've looked with lust in your heart, you've committed adultery.
We could try to plead ignorance of the law, but sadly, we have sinned even after coming to a knowledge of the law. We could plead insanity, perhaps, but no. True, we have all been born in weakness. We have been duped into sin. But we know enough, and we're capable enough, that we can and must stand trial. Justly, we are condemned to death. By the demands of justice, we have no hope.
Not even if we could stop the train right now. If we turned our lives around, and lived perfectly right—even then, we would still have no hope, because our past still condemns us. No amount of right living can atone for what we've done.
As the disciples of Jesus began to realize the depth and magnitude of God's law, when a rich young ruler turned in sorrow from Him, they exclaimed in astonishment, "Who then can be saved?" (Matthew 19:25)
1 Corinthians 5:10 "For we must all appear before the judgment seat of Christ, that each one may receive the things done in the body, according to what he has done, whether good or bad."
Like an unstoppable freight train, a fearful time of justice is bearing down upon us. At the second coming of Christ, those who have trusted in their own riches cry out to the mountains and rocks to fall on them, to hide them from the righteous face of Christ. In agony, they cry out this same question: "who shall be able to stand?" (Revelation 6:17)
Who shall be able to stand, in that day? The answer is found, not in ourselves, but in the cross of Jesus Christ. "we implore you on Christ's behalf, be reconciled to God. For He made Him who knew no sin to be sin for us, that we might become the righteousness of God in Him."
John 3:16-17 "For God so loved the world that He gave His only begotten Son, that whoever believes in Him should not perish but have everlasting life. For God did not send His Son into the world to condemn the world, but that the world through Him might be saved."
What if—what if Someone could take away the guilt in my life? What if that were possible? Could it really be true?
Many Christians emphasize the importance of Christ's life as an example to us. There's nothing wrong with this—Jesus did set an example for us—but let's not overlook this all-important fact. At the heart of the gospel is this indescribable exchange. Jesus offers to us His perfect righteousness—something we don't deserve and didn't do anything to earn. In exchange, He takes our wretched sinfulness. We receive a clean record—we are set free of condemnation, and Jesus takes the death penalty, and receives our death sentence on the cross.
Romans 3:24 "being justified freely by His grace through the redemption that is in Christ Jesus."
There's no "What if" about it. The Bible says that, in Christ, we can be justified. Justified! Just-as-if we'd never sinned!
Romans 5:6-9 "For when we were still without strength, in due time Christ died for the ungodly. For scarcely for a righteous man will one die; yet perhaps for a good man someone would even dare to die. But God demonstrates His own love toward us, in that while we were still sinners, Christ died for us. Much more then, having now been justified by His blood, we shall be saved from wrath through Him."
There's that word again: Justified. Just-as-if I'd never sinned! What hope! What unimaginable joy! I didn't do anything to deserve it, but because God loves you and me, He has fully provided for my salvation!
Friend, the question today is, "Will you accept it?" Christ provides salvation for all. God gave His Son, not because He loved some people in the world, but because "God so love the world." His love extends to you. It extends to me. It extends to everyone on this planet. But sadly, not all will accept Him. It does not say that "all will not perish." but "whoever believes." God won't force you to accept His pardon. You can keep your death sentence if you choose. But why? Why would you neglect, as Paul says in Hebrews 2:3, so great salvation? Yes, we have a part—but our part is simply to choose. To believe. To accept. And as we accept that salvation that Jesus offers us, He can work a wonderful transformation in our lives. He can stop that freight-train of sin. He can do what we were never able to do on our own. He can pull those ugly nails from the post, and then take that old scared wreck that remains and transform it into a thing of beauty. But it's not about us, but about Him. All we can do is to choose, day by day, to continue to let Him into live in our lives.
Friend, I appeal to you today. Do you feel like a freight train of sin and guilt is about to destroy your life? Do you feel like you've walked down a long, dark tunnel, until the only light you see is the signal of certain doom? Friend, look to Jesus! Yes, you deserve nothing but Eternal Death, but friend, Jesus has taken your place! He's written a pardon in His blood, and today you can walk free. You can be justified. Just-as-if-I'd never sinned. Claim His pardon. Take Him at his word.
The symbol of baptism is such a precious symbol of the transformation of life that Jesus offers. Instead of physical death, we can experience a spiritual death to the old life of sin. That old life can be buried in the waters of baptism, and when you rise again, it will be a new and transformed life, by the grace of Jesus Christ. Friend, maybe you've never accepted Jesus before, but today, you can hear His voice calling you, "sinner, come home." Accept Him today, before it's too late!
Perhaps you, like me, have given your heart to Christ a long time ago. You've even been baptized, and you have known what it's like to experience the power of Christ in your life. But, as time has past, you've slipped back into some of your old habits. You've taken for granted the gift that Jesus offers, and found yourself, once again, trying to do it on your own. Friend, the good news of the Gospel isn't lost on your case. Paul writes in Philippians 1:6, "being confident of this very thing, that He who has begun a good work in you will complete it until the day of Jesus Christ." And though you may have fallen back into sin, claim the promise of Micah 7:8:

Do not rejoice over me, my enemy;
When I fall, I will arise;
When I sit in darkness,
The Lord will be a light to me.
Friend, the good news is that Jesus is still in the business of forgiveness. Justification isn't a one-shot deal. Jesus told Peter that he ought to forgive his brother seventy-times-seven, or 490 times. How many times do you suppose Jesus can forgive?
You may have been a Christian all your life. You may have prayed a thousand times for Jesus to forgive you, and yet you feel like you still fail Him. Do you suppose He's run out of forgiveness for you? No, my friend. As long as you hear His voice, there's still time to return to him. Once again, you can be justified. I'm not saying He cannot change you. I'm not saying you don't need to have victory over sin. But though you are weak, don't become discouraged. By His grace, Jesus can make you "Just-as-if-I'd never sinned."
The Savior who gave His life on Calvary has not given up on you. He is "able to save to the uttermost those who come to God through Him, since He always lives to make intercession for them." (Hebews 7:25) Friend, as we enter 2017, will you re-commit your life again to Jesus? Not matter what has happened over the past year, will you allow His forgiveness to wipe away your past, and allow Him to transform your life, starting from this day forward?