Real Fruit
Below is a message on Righteousness by Faith, that I preached at Stearns on January 21, 2017. You can hear an audio recording of the message here.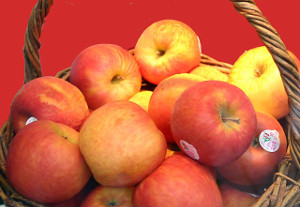 I have always enjoyed science. I remember one of my lessons, perhaps in biology class, when we were studying fruit. Now, scientists have odd and interesting ways of looking at things. For instance, how would you answer this question: What a fruit is? Well, for most of us, we would say it's a food that grows on a plant. Usually, it's soft, sweet, and juicy. Most importantly, it's where the seeds of the plant grow. That's a pretty good definition of a fruit, from a culinary perspective.
But, if you ask a botanist about fruit, he or she will tell you that a true fruit comes from the ovary of the plant—that's the little round part at the base of the flower. Cherries, blueberries, and bananas are all examples of true fruits. So are bean pods, corn kernels, tomatoes, and wheat—according to the botanist. But, other things we've always called "fruits," I'm told, aren't really true fruits at all! Strawberries, pineapple, figs, apples, and pears are all called "false fruits" or "accessory fruits" because their fruity flesh comes from other parts of the plant, besides the ovary.
OK, it's a pretty technical difference, I know, but if you want to be particular, and go by the botanical definition, a strawberry-pineapple upside-down cake doesn't have any "true fruits" in it, but chili beans and tomatoes might as well be a "true fruit" salad!
Real Tree – Real Fruit
Well, that's a bit of interesting trivia, but what does that have to do with the Bible? Of course, Jesus never talked about "false fruits," but He did warn us about false teachings and those who teach them.
Matthew 7:15-20
"Beware of false prophets, who come to you in sheep's clothing, but inwardly they are ravenous wolves. You will know them by their fruits. Do men gather grapes from thornbushes or figs from thistles? Even so, every good tree bears good fruit, but a bad tree bears bad fruit. A good tree cannot bear bad fruit, nor can a bad tree bear good fruit. Every tree that does not bear good fruit is cut down and thrown into the fire. Therefore by their fruits you will know them.
How can you tell the genuine, from the fake?
Salvation – Review
Last week, we talked about what I believe to be the most important topic in all of Scripture—the topic of salvation. The central theme of the Bible is the Gospel—God's love for you and me. Jesus death on the cross opens the door of salvation for you and for me.
Let's review just a minute. Why do we need to be saved? What's so bad about our situation here? It's a matter of this horrible thing called sin. Sin is evil. Sin is breaking God's law. Sin is the choice to go contrary to God's will. It is what has led us to this place in which we are hopelessly lost. We face nothing but certain death. The Bible speaks of a day of judgment, in which every man, woman, and child will receive the just reward of his or her deeds.
Reconciliation
So, sin has made this huge rift between mankind and God. What we need is reconciliation. We need Someone to bridge the gap. What hope do we have? Our only hope is Jesus!
Isn't there a verse in the Bible somewhere that says, "God was in Christ, reconciling himself to the world"?
We have this idea that God the father sits stoically in heaven, angry with sin and sinners. We get this idea that Christ sacrifice somehow appeases God's wrath and makes God love us again.
Nothing could be further from the truth! "God so loved the world, that He gave his only begotten Son."
In 2 Corinthians 5:19, we find this statement: "God was in Christ, reconciling the world to Himself." Christ did not come in order to make God love us. Christ came because God loved us, and through His grace Christ brings us back to God. Christ's sacrifice doesn't reconcile God to sin. Sin is the antithesis of God's nature. God does not change His nature, to be reconciled to sin, but the Gospel changes our nature to be reconciled to God.
Justification
To review once again: how are we saved? The answer is found in Ephesians 2:8-9 "For by grace are ye saved through faith; and that not of yourselves: it is the gift of God: Not of works, lest any man should boast."
In my natural condition, I am lost. I face nothing but certain death. But the Bible gives me hope. Is there anything I can do to deserve to be saved? Is there any way I could make God like me and want to save me? Of course not! "Not of works, lest any man should boast."
Jesus makes me "just as if I'd never sinned." We call this Justification – the imputed righteousness of Christ. Christ's righteousness is credited to our account, and when God looks at our record, He sees the righteousness of Christ, in place of our own sinfulness.
It sounds too good to be true! Is it true? Can we be justified without doing anything to earn it? Yes, it is absolutely true. Acts 4:12 "Nor is there salvation in any other, for there is no other name under heaven given among men by which we must be saved."
This is the gospel. This is the truth. There is no other way to heaven, except through faith in Jesus.
Faith vs Works?
If it's so simple, why do we have so much trouble accepting it? Perhaps the answer lies in the fact that we simply don't understand what it means to be saved. Perhaps, in a way, we don't even want to be saved.
Jesus Himself made some difficult statements regarding the judgment, and salvation, in the sermon on the mount:
Matthew 7:21-23 "Not everyone who says to Me, 'Lord, Lord,' shall enter the kingdom of heaven, but he who does the will of My Father in heaven. Many will say to Me in that day, 'Lord, Lord, have we not prophesied in Your name, cast out demons in Your name, and done many wonders in Your name?' And then I will declare to them, 'I never knew you; depart from Me, you who practice lawlessness!'"
But we're saved by faith, right? Isn't it supposed to be simple? Yes. Well, yes, and no. Yes, it really is that simple, if we understand what it means to have true faith. You see, just like there can be false fruits, that look and taste a lot like the real ones, the Bible teaches that we can have a false faith—a kind of faith that's not a saving faith.
Nowhere is this more clear than in James chapter 2:19: "You believe that there is one God. You do well. Even the demons believe—and tremble!"
Of course demons believe that God exists. They were there in heaven before Lucifer fell!
James 2:20-24: "Do you want to know, O foolish man, that faith without works is dead? Was not Abraham our father justified by works when he offered Isaac his son on the altar? Do you see that faith was working together with his works, and by works faith was made perfect? And the Scripture was fulfilled which says, 'Abraham believed God, and it was accounted to him for righteousness.' And he was called the friend of God. You see then that a man is justified by works, and not by faith only."
Now, if that doesn't blow your mind. It does mine! Paul says, "saved by faith, not of works," but James says here that a man is "justified by works, and not by faith only." Who do you believe, James, or Paul?
This discussion has plagued Christians for centuries—millennia really—and it's still at the heart of some of the most heated debates within Christendom. The answer to this dilemma, between faith and works, is found in an understanding of the nature and purpose of the true Gospel.
Justification + Sanctification
In Matthew 1:21, before the birth of Jesus, the angel explained the purpose of His mission, "And she will bring forth a Son, and you shall call His name Jesus, for He will save His people from their sins."
Jesus – Savior. To save his people from what? "From their sins."
There's so much meaning in this verse. Jesus came, not to save us from the penalty of sin, but to save us from sin itself. And notice, too, the verse doesn't say "from Adam's sin," in the sense of original sin. It is plural—sins—and it is possessive, referring to the sins of the very people He came to save.
Romans 5:8 "But God demonstrates His own love toward us, in that while we were still sinners, Christ died for us."
Jesus died while we were still sinners, yes, but does He leave us still as sinners? Paul makes it very clear in 1 Corinthians 6:9-11:
"Do you not know that the unrighteous will not inherit the kingdom of God? Do not be deceived. Neither fornicators, nor idolaters, nor adulterers, nor homosexuals, nor sodomites, nor thieves, nor covetous, nor drunkards, nor revilers, nor extortioners will inherit the kingdom of God. And such were some of you. But you were washed, but you were sanctified, but you were justified in the name of the Lord Jesus and by the Spirit of our God."
You see, along with this concept of "justification" comes another big word, "sanctification." In Justification, God's word declares us righteous. Through the blood of Christ, He makes me "just as if I'd never sinned."
But right along with that comes "sanctification." God doesn't just declare us righteous—He doesn't just count us as righteous. God does not lie. His word says that He cannot lie. So, in sanctification He actually makes us righteous. His word changes our hearts.
Justification is the imputed righteousness of Christ – it's credited to our account.
Sanctification is the imparted righteousness of Christ – Christ actually making us righteous. It's a change of heart.
Justification happens in a moment.
Sanctification is a continual process. It's a change of heart – a continual abiding relationship with Christ.
Ezekiel 36:25-27 "Then I will sprinkle clean water on you, and you shall be clean; I will cleanse you from all your filthiness and from all your idols. I will give you a new heart and put a new spirit within you; I will take the heart of stone out of your flesh and give you a heart of flesh. I will put My Spirit within you and cause you to walk in My statutes, and you will keep My judgments and do them."
This is exactly what Jesus described to Nicodemus in John chapter 3, when He said "you must be born again."
Some people have the idea that Christianity is about behavior modification. "Just try harder, just keep a bunch of rules, and you'll go to heaven." Others see Christianity as a free pass to do whatever one wants to do. "Just say the right words, Jesus will save you, and you can do whatever you please."
Both of these extremes entirely miss the point of the Gospel. The beauty of the Gospel, here and now, is about a changed heart. When I look at Jesus—when I see what He has done for me on the cross—the blood He shed, the love He gave—my heart is broken. The Holy Spirit touches my heart, and Christ's blood forgives my sin. I get a clean slate—but more than that, I receive a new heart. In that moment, I am justified, and at that moment I begin a new walk with Jesus. This is the experience of sanctification. Sanctification isn't an event. It's not something that happened in a moment in the past. Nor is it a goal—something I hope to attain at some future point in my life. Its a daily walk—a continual, abiding relationship with Jesus.
Bearing Fruit
So, how do you know if it's the real thing? Jesus gives us a simple answer, in John 15:4-5:
"Abide in Me, and I in you. As the branch cannot bear fruit of itself, unless it abides in the vine, neither can you, unless you abide in Me. I am the vine, you are the branches. He who abides in Me, and I in him, bears much fruit; for without Me you can do nothing."
How do we know if our faith is genuine? By examining the fruit. What is the fruit of your life? Paul describes the fruit of the old, sinful life in Galatians 5:19-21: fruits of sin, impurity, selfishness, hatred, jealousy and anger, all of which lead to death. In contrast to this, He describes the fruit of the Spirit:
Galatians 5:22-24:
"22 But the fruit of the Spirit is love, joy, peace, longsuffering, kindness, goodness, faithfulness, 23 gentleness, self-control. Against such there is no law. 24 And those who are Christ's have crucified the flesh with its passions and desires. 25 If we live in the Spirit, let us also walk in the Spirit."
Conclusion
Friends, I ask you, today: what kind of fruit is your life bearing? Don't look around you at others, but look at yourself. I ask myself the same question: Is my life bearing the fruit of the spirit, or the fruit of my own selfishness? Am I keeping God's law, or am I living in sin?
If the answer is selfishness and sin, then what's the solution? Do we need to try harder to be more Christlike? Do we need to focus more time and energy on our fruit bearing? No, my friend—in the words of Christ, "Abide in me." We are only branches—and if we're not bearing fruit, it's not time to focus more on the fruit but to focus more on Christ.
Friend, look to Jesus. Believe Him. Trust Him more. If your life isn't where you want it to be, trust Him more. Throw your life into His arms, until your life and your will are lost in His will—and He will transform your life into His image.
If you believe Him – If you trust Him – you will have this experience. You'll never get to the place where you feel like you're perfect, because the closer you come to Jesus, the more you will realize your own imperfections. But don't look at yourself, keep looking to Him. Abide in Him, and let your life bear the fruit of His Holy Spirit. Then we can have no need to fear the judgment.
Philippians 3:7-9 "But what things were gain to me, these I have counted loss for Christ. 8 Yet indeed I also count all things loss for the excellence of the knowledge of Christ Jesus my Lord, for whom I have suffered the loss of all things, and count them as rubbish, that I may gain Christ 9 and be found in Him, not having my own righteousness, which is from the law, but that which is through faith in Christ, the righteousness which is from God by faith."
Look upon Jesus, sinless is He;
Father, impute His life unto me.
My life of scarlet, my sin and woe,
Cover with His life, whiter than snow.
Deep are the wounds transgression has made;
Red are the stains; my soul is afraid.
O to be covered, Jesus, with Thee,
Safe from the law that now judgeth me!
Longing the joy of pardon to know;
Jesus holds out a robe white as snow;
"Lord, I accept it! Leaving my own,
Gladly I wear Thy pure life alone."
Reconciled by His death for my sin,
Justified by His life pure and clean,
Sanctified by obeying His word,
Glorified when returneth my Lord.
Refrain
Cover with His life, whiter than snow;
Fullness of His life then shall I know;
My life of scarlet, my sin and woe,
Cover with His life, whither than snow.
– F. E. Belden, 1899