African Adventures #5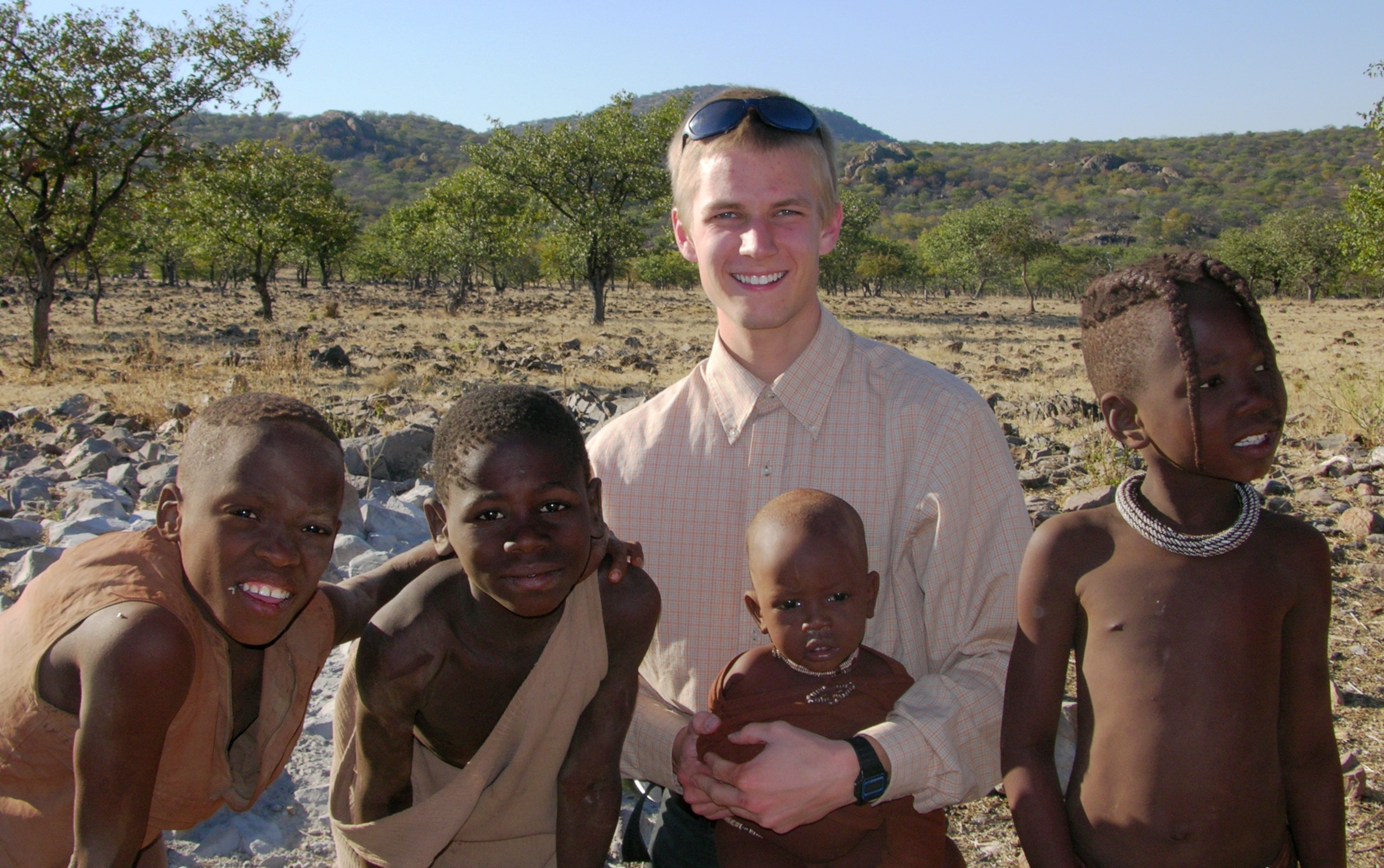 Cleaning. Cooking. Doing dishes. Commuting to work. Checking e-mail. Running errands. Entertaining guests. Fixing things around the house. Do these tasks sound familiar to anyone? What does this have to do with being a missionary? Aren't missionaries those people who take a Bible and picture roll out to the jungle villages and preach to the natives? Aren't missionaries supposed to have clinics and schools and hold meetings and baptize lots of people? Yes–missionaries do do these things. But they also do other things. Like sweeping the floor, and cooking, and shopping, and just spending time making friends. In fact–most of the day-to-day life of a missionary isn't spent baptizing people or preaching, but in doing the day-to-day tasks that anyone else does, whether in America or in any other part of the world.
So what is a missionary, then, if missionaries are simply ordinary people who do ordinary things? I'll tell you: A Christian missionary is a Christian with a MISSION. Christians have a message to tell and an injunction to give this message to the world. "Go ye, therefore, and teach all nations…" Christ said, and for two thousand years His true followers have been telling His story in the remotest parts of the globe. It is impossible to be a Christian without being a missionary. Every true Christian will be ready to go wherever the Lord leads and do whatever the Lord asks.
These are the lessons the Lord has been teaching me lately. It really isn't the "big" things that one is or isn't doing, but faithfulness in performing the little tasks, that determines one's character. I was reminded recently of the story of the prophet Elisha, whose early job was to pour water over the hands of the prophet Elijah. That's why we, the student missionaries, are here in the field. For the most part, we're not here to do the "big" jobs–we're not here to be the Elijahs on mount Carmal, but to be the Elishas: to pour the water; to do the little things to help so that the Elijahs can be on the mountain.
In the next few weeks we are hoping to duplicate the English lessons, which I have been helping to record and edit, and begin distributing these to the Himba people. Lately I've also been doing some research into the different types of Himba music, so we can move efficiently into our next phase of the recording project: recording the Himba music to use in evangelism.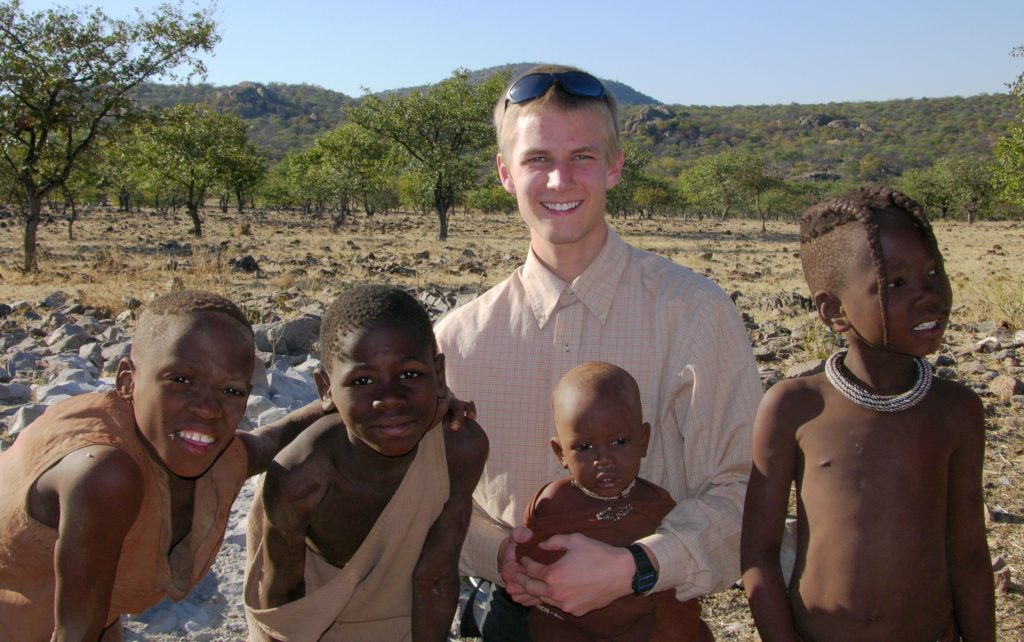 Not long ago I went with Kapitango to do some research and recording at a Himba village just a few kilometers from here. We arrived at the village and spent some time visiting with the women and children there. One lady was spooning freshly cooked porridge into a woven basket. She asked us to come eat, and gave us a bowl of porridge and a container of milk. Oops–I did it again! As I started to drink from the grimy bucket, Kapitango quickly motioned for me to sit down. In the Himba culture, it's very rude to drink while standing. I sat and continued to drink, trying not to grimace too noticeably at the sour taste. Children played nearby as we talked and ate. At a nearby hut a Himba woman patiently smoothed dung and clay "cement" over her porch which had been worn down by the rains. We chatted with our hostess, using the limit of my otjiHerero vocabulary, and having Kapitango translate for me when I got lost. We had come to do some recording, but it was too windy to record outdoors, so the people helped us set up the studio in one of their huts. A half-dozen women crowded into the hut, clapping and singing the traditional onjongo. After they tired of singing, several men came in and sang the men's onjongo as well. All the while, the children crowded around and in the doorway, trying to see what this strange white man was doing with his black box! They all enjoyed listening to themselves in the recordings afterwards, too. Another interesting cultural music research opportunity was attending the funeral of a village chief. Not only were there many different types of cultural music, but there was also a choir singing Christian hymns!
It is interesting to see how the Himba people blend elements of western culture with their traditional culture, as at the funeral. The Himba also do the same thing with Christianity. Christian beliefs are blended together with the ancient rites of ancestor worship. To the Himba mind, Christianity has little to offer that the Himba do not already have. Though the village leaders are coming to tolerate Christianity and many Himba have adopted certain Christian beliefs, most Himba see no reason to convert to Christianity. Please pray that we (the Himba project team) can present the gospel in such a way that the Himba people will realize their need of Jesus and accept Him into their hearts.
Most of my time, though, isn't spent out in the Himba villages but back in town, usually editing recordings or the English booklet, or just doing the 101 different little things that need to be done, whether technological challenges with the computer, or fixing a broken toilet, or helping a store manager with his computer, or entertaining children, or just giving a friend a listening ear.
That's not to say mission life is ever mundane. As a missionary, you just have to expect–well–anything! Even if it's a close-up encounter with a wild lioness…
Recently Opuwo has had a number of foreign visitors doing projects which our team has helped to coordinate. A group of 8 teachers from Ireland came with a project to help improve educational standards at a secondary school here. Also two ladies from Eden Valley Lifestyle Center (in Colorado) were here for a visit, and helped organize a "health fair" at the church, which I was able to help with as well. Pam organized a mini safari for both the teachers and the American ladies so they could see some wildlife on the way to Windhoek when they left. Because of a visa problem, one of the visitors couldn't come so I had an opportunity to go along and see the Etosha wild animal park for the first time. It was really incredible to see the wild lions, elephant, giraffe, zebra, and antelope up close! And yes–I was within a few feet of a real, live mother lioness and her cubs! On the way down and in Windhoek I had witnessing opportunities, too, so it was a blessing. Unfortunately there was one sad note to end the otherwise exciting adventure: Pam fell sick and had to fly to South Africa for medical care while Gideon and I returned to Opuwo last week. Please keep her in your prayers, that she will have a speedy and complete recovery. This week Charlie Eklund is also returning from the states, and next week we will (finally) be joined by my fellow SM Lisa Scott! Please keep them in your prayers, as well.
The devil is ceaseless in his attacks; only by vigilant prayer can we overcome. When more direct means fail, he uses doubt, discouragement, and distraction to lead us to distrust God and lose our sense of mission. But thank God He never fails us! As a student missionary I face the same struggles and temptations that all young people face. Sometimes I feel discouraged and am tempted to wonder if I'm really working for God. What about you? Do you ever feel like all you're doing is pouring water over the prophet's hands? Do you wish you could be out doing some "great thing" for God? Just remember: if you're answering God's call, that's the greatest thing you can do–no matter how big or small it may seem! Although the Himba people don't know it yet, God has great things in store for them! I pray that soon there will be a spiritual awakening among the Himba of the Kunene region. As the parched earth drinks in the first drops of rain after months of drought, so I pray the Himba people will receive the truth of Jesus Christ.
Soon, and very soon, we are going to see the King! Hallelujah! Hallelujah! We are going to see the King!
Maranatha!
Daniel
P.S. As usual, there are more albums of photos on the website (link). Also check the url in the signature line for more great stories and to read any African Adventures issues you might have missed. May God bless you all!
"And this gospel of the kingdom shall be preached in all the world for a witness unto all nations; and then shall the end come." Matthew 24:14